Radical Nephroureterectomy with excision of cuff of bladder with regional lymphadenectomy is standard of care for urothelial malignancies of upper urinary tracts, namely transitional cell carcinoma of renal pelvis and ureter.
In the era of open surgery, patient needed a flank, trans costal(Rib cutting) incision for Nephrectomy in lateral position followed by removal of lower ureter with cuff of bladder through a separate lower abdominal incision In supine position. It is not difficult to imagine the morbidity of two separate incisions. With advent of laparoscopic techniques, it was possible to do Nephrectomy part of operation laparoscopically and while the rest of procedure needed to be performed as open. Surgery. Even in open surgery , removal of cuff of bladder around the Ureterovesical junction, which is part of Trigone, the lowermost posterior part of bladder fowllowd by suturing of bladder defect , through an anterior incision is not an easy task.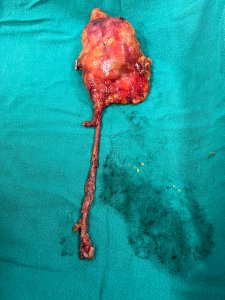 Using robotic assisted techniques, this procedure has been converted into a truly less invasive procedure by performing the whole operation precisely. In most centers across the globe, the Robot is docked for Nephrectomy and then re docked for Ureterectomy and excision of cuff of bladder. This is known as double docking. We at Indraprastha Apollo hospitals have been using single docking robotic technique for this operation for last one decade , without changing the position of robot or changing the ports. This has translated into saving time besides efficiently repairing the bladder defect and performing precise lymphadenectomy through as single step docking of DaVinci robotic system.